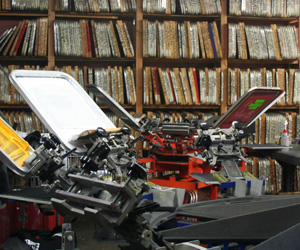 Whether you need a smaller order with one color, or something larger with multiple colors, we're here to serve your company, band, non-proft, or team. We have competitive prices and pride in our work. Contact us soon about your silk screening needs.
What shirt sizes are available?
If it's available we can get it.
Shirts 2XL and up are subject to a price increase.


What brand do you use?
We use Fruit of the Loom unless otherwise specified.
More obscure shirt brands are not guaranteed.


Can I get any color I want?
Pretty much any color is available. Chances are, if they make it, we can get it.
Special inks such as metallic base, puffy, or glow-in-the-dark may be more expensive. Email about pricing for special
inks beyond spot colors.
Shirt color variety decreases the bigger the size. For instance, black and white are available in any size, any brand, but
more unique colors such as turquoise, lime green, burgundy, and burnt orange are not available in all sizes.


What types of inks do you use?
All inks used are going to be high quality, oil-based plastisol inks that will not fade or wash out over time.
We do not use water base inks, only plastisol.


Can you make me just one shirt?
The minimum order is 3 dozen (36) shirts.


Are there any other fees?
Set-up fees include $25.00 per color which covers coating screens, making films, color separations, emulsion, burning
screens, and other labors.
There is also a shipping fee once the order is complete.